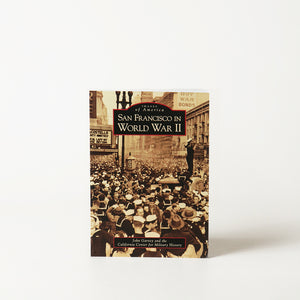 Images of America: San Francisco in World War II by John Garvey and the California Center for Military History
A part of the Images of America Bay Area series, the perfect collection for a local history buff!
Everything changed on the morning of December 7, 1941, and life in San Francisco was no exception. Flush with excitement and tourism in the wake of the 1939 Golden Gate International Exposition, the city was stunned at the severity of the Pearl Harbor attack, and quickly settled into organized chaos with its new role as a major deployment center for the remainder of the war. "Frisco" teemed with servicemen and servicewomen during and after the conflict, forever changing the face of this waterfront city. Warships roamed the bay, and fearsome gun embankments appeared on the cliffs facing the sea, preparing to repel an invasion that never happened.