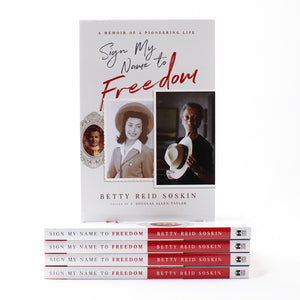 Sign My Name to Freedom by Betty Reid Soskin
Betty Reid Soskin is an iron-willed American woman who became a national park ranger at age 85. The great granddaughter of a slave, Betty has lived a life filled with painful and often humiliating memories… yet she remains a defiant voice of hope.
In Betty Reid Soskin's 102 years of living, she has been a witness to a grand sweep of American history - read her first-hand account in her memoir.
For more of the Betty Reid Soskin experience, consider watching the Trust-produced documentary, No Time to Waste. The 50-minute documentary examines Betty Reid Soskin's mission to restore critical missing chapters of America's story. The film follows her journey from kitchen stool in a tiny theater to media interviews and international audiences who hang on every word she utters.