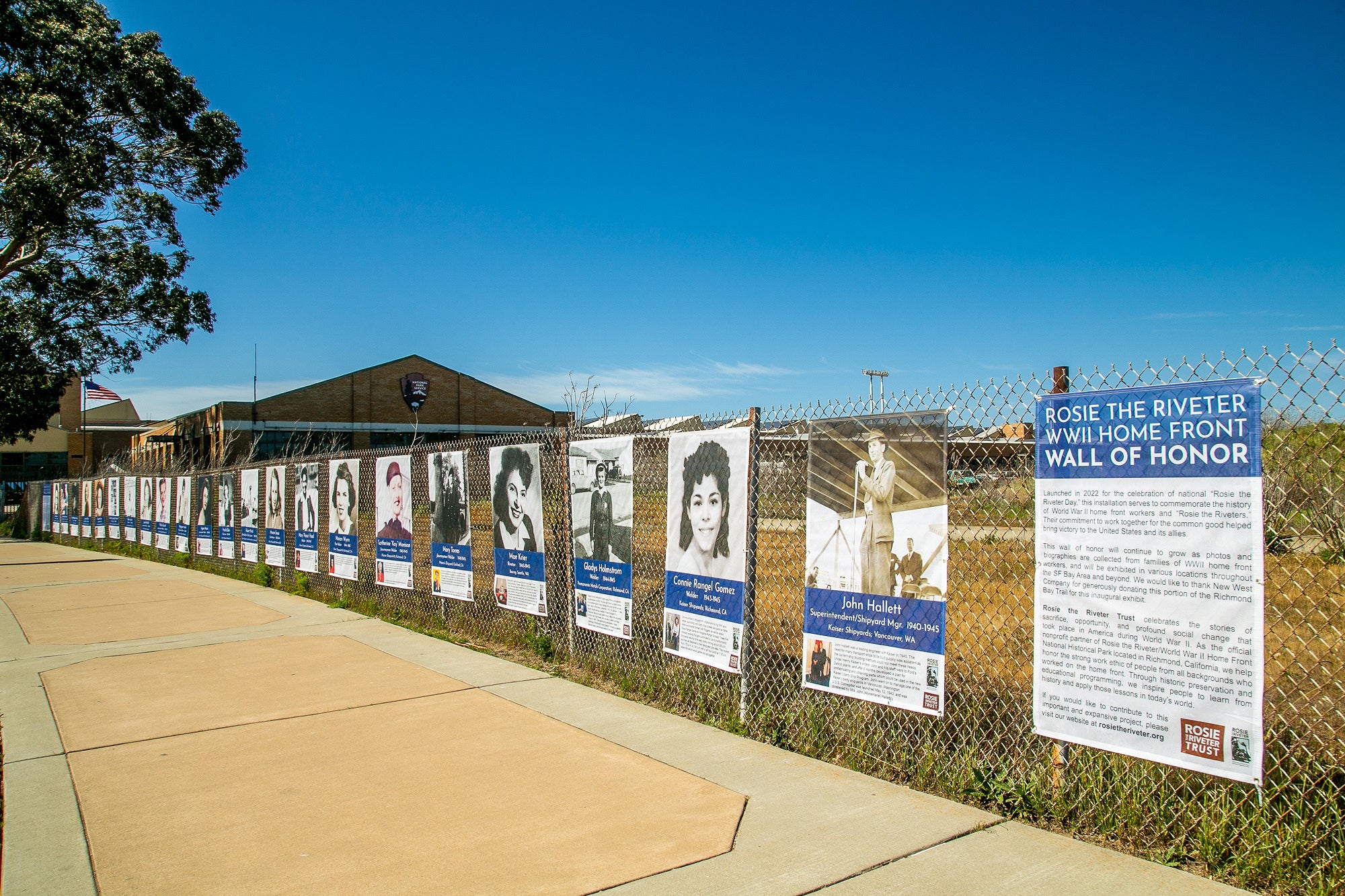 Honor a past or living WWII Home Front Worker by having a banner on our
WWII Home Front Worker Wall of Honor.
This collection is currently installed adjacent to the visitor center at Rosie the Riveter/WWII Home Front National Historical Park. Be a part of beautifying this section of the Bay Trail and furthering our mission of
Sharing Stories
and
Preserving History
! Thousands of people will see and know the role your home front worker played during one of the most important eras in American history for years to come.
Not only will the banner be displayed along the Bay Trail and various locations in the future, your tax-deductible contribution also allows us to create a smaller  banner to be included in trust and park events, parades, and displayed during the national park's annual Rosie Rally/Home Front Festival. You also have the option to only contribute for a small banner, which Rosie the Riveter Trust will proudly display during our events and at parades
Your home front worker's photo, name, job during the war effort, years active and location will be displayed along with a quote or pertinent information of your choosing.*
Once you have made your contribution, you will be contacted via email with directions on how to submit photos and information for printing. We will need the following:
2 photos of the home front worker you want to honor:  
One photo should be from the WWII era and another of your choosing
A short biography and/or quote: 
Please limit to 100 words or less
Your contribution is 50% tax deductible and supports youth and educational programs at Rosie the Riveter/WWII National Historical Park.
Choose from the options below which include the Banner Package (Large banner - 36 x 54 in. - and small event banner - 12 x 18 in.) or Small Banner Only. 
Either option includes the ability to add an additional small banner for you to keep, and will be sent to your shipping address.
*space and verbiage limitations apply. Please note that images are representations only.
PLEASE CLICK ON YOUR PREFERRED PACKAGE TO CHOOSE YOUR OPTIONS