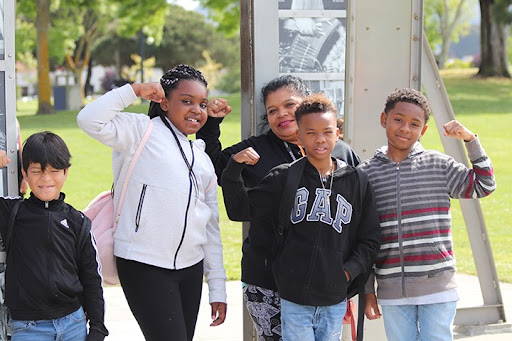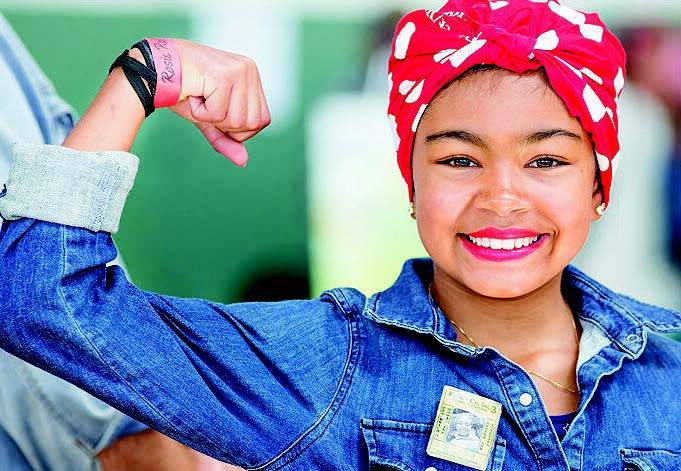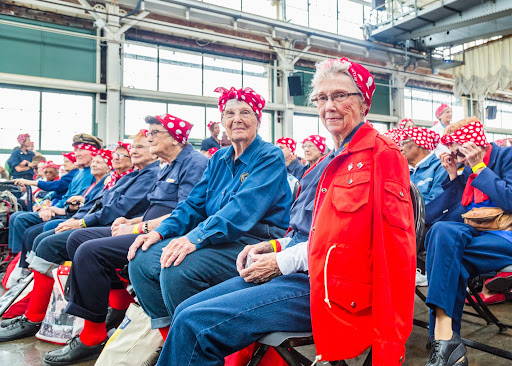 We depend on you and your partnership to run our programs and help in the historical preservation of park sites.
We appreciate your support!
Your tax-deductible donation helps us to complete major projects such as restoration of the historic Maritime Childcare Center, more programs and transportation for school children, and expansion of our Rosie's Service Corps program so that more girls who lack resources can experience our summer camp and learn the We Can Do It! spirit. Please make a significant gift now, if you are able.
We recognize all donors who donate $1,000 or more in a year at the National Park Visitor center and on our website here.
Use the donation form below or mail a check to:
Rosie the Riveter Trust
PO Box 71126
Richmond, CA 94807-1126
Rosie the Riveter Trust could not succeed without our enthusiastic and dependable volunteers!
Volunteers support the park in many ways, through work as a docent, office help, facilities maintenance, gift store assistance and more. If you are interested in volunteering, please fill out this volunteer sign up form.
Database + Office Administrator - Part Time

Rosie the Riveter Trust is seeking an experienced individual to join our energetic and committed team.
The Database + Office Administrator is central to efficiently running key needs of the Trust. This position is a good fit for you if you love to organize, are process-driven, detail-oriented, and take pride in highly effective communication. This role includes office and program support, accounting - including processing donations, billing, filing - and database entry and donor relations. You will also serve as key administrator to help manage and organize office systems. Other duties may include support on events, calendars and assistance with communications ie., responding to inquiries and taking meeting minutes as needed. We are excited to meet you especially if you feel you are a good candidate and have interest in the Trust's mission to support the Rosie the Riveter/WWII Home Front National Historical Park in Richmond, California.
QUALIFICATIONS
A minimum of three years related experience: office management and finance/accounting support.

High level of computer literacy.

Experience working with CRM database – including data entry and generating reports. QuickBooks a plus.

Flexibility to manage and work with changing priorities (a good juggler and time manager of tasks).

Highly responsive and professional communication with both donors, community partners and colleagues - excellent oral and written communication.

Positive attitude, initiative, proactive problem solving and organizational skills.

Ability to build and maintain relationships and work with people across multiple disciplines (both public and private) within a diverse community.

Nonprofit agency experience a plus.

Interest and commitment to the Trust's mission.
SALARY AND BENEFITS
The position is part time, 12 hours per week in person Mondays and Wednesdays (and may include an occasional evening or weekend). Salary is $20/hour. No benefits are included.
TO APPLY:
Please send cover letter, resume and any supporting documents to sarah@rosietheriveter.org and list "PT Database + Office Administrator Candidate" in the subject line of the email. Only candidates who are being actively considered will be contacted. This position will be open until filled.
Rosie the Riveter Trust is an equal opportunity employer and does not discriminate on the basis of race, color, religion, sex, age, national origin, veteran status, physical or mental disability, or sexual orientation.
SAVE THE DATE: September 23, 2023 | Craneway Pavilion in Richmond
Thank you for stepping up to be a Rosie the Riveter Trust Partner this coming year! Your contribution expands opportunities for youth and the We Can Do It! spirit in our communities through programs of the Trust and the National Park Service.
"If it weren't for the Rosies…" is our theme this year, as we have heard time and time again how the Rosies paved the way for the next generation of women to enter the workplace and to feel empowered to do and be anything they set their minds to. We look forward to hosting you and your guests for a memorable evening in which we will explore how the Rosie "We Can Do It!" Legacy lives on!
I'm ready to

PLEDGE

my sponsorship!

I'm ready to

PAY

my sponsorship!
How has the WWII home front history inspired you?
When you set up a legacy gift for Rosie the Riveter Trust, you help keep WWII home front's transformational moments alive.

Legacy gifts can be simple to set up and some even return life income to you. Below are the most common forms of legacy gifts and you can read more about how they work in our linked booklet.
Specify a Bequest in Your Will or Revocable Living Trust

Retirement Funds Beneficiary

Charitable Remainder Trusts

We Want to Thank You!
Please let us know that you have included Rosie the Riveter Trust in your estate plans so that we can thank you! We would love to acknowledge you as a member of our Legacy Circle, and with your permission, list your name in our newsletter and on our website. You will be invited to special events as well. You may specify that your gift be anonymous if you prefer.