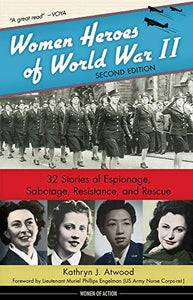 Women Heroes of World War II (Second Edition): 32 Stories of Espionage, Sabotage, Resistance, and Rescue by Kathryn J. Atwood, with a foreword by Lieutenant Muriel Phillips Engelman (US Army Nurse Corps-ret.)
Noor Inayat Khan was the first female radio operator sent into occupied France and transferred crucial messages to the Resistance. Johtje Vos, a Dutch housewife, hid Jews in her home and repeatedly outsmarted the Gestapo. Law student Hannie Schaft became involved in the most dangerous resistance work—sabotage, weapons transference, and assassinations. Soviet pilot Anna Yegorova flew missions against the Germans on the Eastern Front in an all-male regiment, eventually becoming a squadron leader. In these pages, young readers will meet these and many other similarly courageous women and girls who risked their lives to help defeat the Nazis.

Thirty-two engaging and suspense-filled stories unfold from across Germany, Poland, the Netherlands, France, Belgium, Denmark, Great Britain, the United States and, in this expanded edition, the Soviet Union, providing an inspiring reminder of women and girls' refusal to sit on the sidelines around the world and throughout history. 

An overview of World War II and summaries of each country's entrance and involvement in the war provide a framework for better understanding each woman's unique circumstances, and resources for further learning follow each profile. Women Heroes of World War II is an invaluable addition to any student's or history buff's bookshelf.