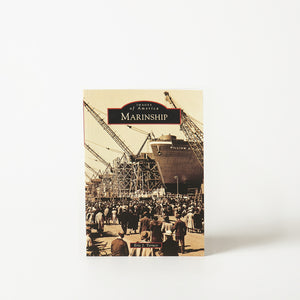 Images of America: Marinship by Eric J. Torney

A part of the Images of America Bay Area series, the perfect collection for a local history buff!
Marinship was a World War II shipyard built by the W.A. Bechtel Company to fulfill an urgent need for cargo ships to support soldiers all over the world. Sausalito was selected as the site for its unused railroad capacity and access to a deepwater channel and the Golden Gate Bridge. In March 1942, the shipyard was built on the site of the railroad maintenance yard and adjacent vacant mudflats, with the first ship being launched in September. At the time of its peak operation, there were as many as 20,000 workers. Workers were recruited from local resources at first but eventually a more widespread recruitment brought people from the Midwest and the South. These new workers, including minorities and women, enabled Marinship to become a leader in the integrated workforce phenomenon. As the war in Europe was won, fewer ships were needed. The Marinship labor force was reduced by about half until the victory in Japan, when ships were no longer needed. Marinship was soon taken over by the US Army Corps of Engineers, which disposed of what it did not need for its operations and currently maintains several buildings to facilitate its regional operations.