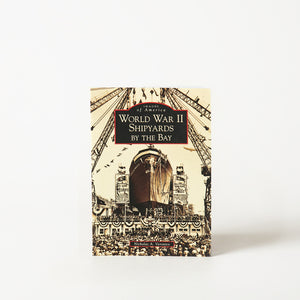 Images of America: World War II Shipyards by the Bay by Nicholas A. Veronico

A part of the Images of America Bay Area series, the perfect collection for a local history buff!
In the dark, frenzied years of World War II, the San Francisco Bay Area was the geographic center of a $6.3 billion West Coast shipbuilding industry. Stretching from the Golden Gate to Vallejo to Sunnyvale, 14 Bay Area yards launched many of the ships that helped save the free world. Basalt Rock of Napa, Bethlehem Steel of San Francisco and Alameda, Hunters Point and Mare Island Naval Shipyards, Joshua Hendy Iron Works of Sunnyvale, Marinship of Sausalito, Permanente Metals in Richmond, and Western Pipe and Steel in South San Francisco are names that still conjure memories for many locals of one of the most impassioned war efforts in human history. Offering new opportunities for African Americans and women, recruiters searched the nation for workers who relocated here by the thousands. These motivated men and women delivered Liberty cargo ships like the SS Robert E. Peary, built in seven and a half days, a shipbuilding record that stands to this day.