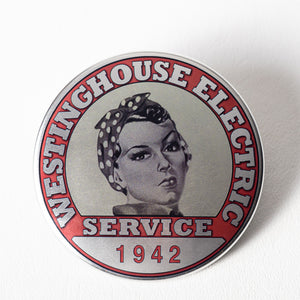 This 3-inch round magnet displays Rosie's employment badge. This historically accurate design is based on the "We Can Do It!" World War II poster, where Rosie wears an employment badge on her collar. The magnet is an inspirational reminder of the CAN DO spirit of women and, of course, it is a strong magnet because Rosie was a strong woman.
Put the Rosie Pin Magnet on your fridge, in your office, in your dorm room. Then think of your friends and family members who are strong, courageous, and empowered and give the magnet as a hostess, birthday, holiday, or even "just thinking of you" gift. As a gift, this magnet lets you acknowledge the power of women — including yourself.

Our original art matches the colors and font in the authentic employment badges from Westinghouse Electric Service where Rosie worked.

Made by women in the USA.