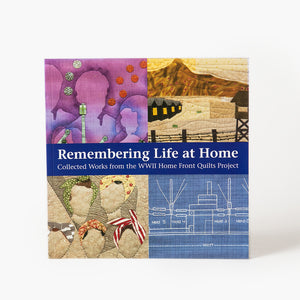 Remembering Life at Home: Collected Works from the WWII Home Fronts Quilt Project. Edited by Jennie Alexich, Rosemary Corbin, and Melinda McCrary.
In the summer of 2012, Jennie Alexich and Rosemary Corbin met to discuss the ideas for Voices in Cloth (VIC), a major San Francisco Bay Area biennial quilt show hosted by the East Bay Heritage Quilters (EBHQ). They settled on a plan to initiate a themed quilt challenge combining small wall quilts with personal stories. Alexich and Corbin formed a steering committee and launched the WWII Home Front Quilts Project, a collaboration of Bay Area quilt enthusiasts, art organizations, museums and historical associations, The Rosie the Riveter Trust, and National Park Service staff and volunteers.
Thirty fiber artists met the Project's initial challenge and were included in the special exhibit at VIC 2014. The reaction from the public was so overwhelming, a second challenge was issued and fifteen quilts were added, broadening the subject matter of the collection.
Having created an impactful story all its own, this compelling collection of small quilts and their stories lives on through this book.
"This novel concept for promoting our Rosie the Riveter/WWII Home Front National Historical Park produced a collection of engaging quilts and stories that captured the interest of the public. The success of their endeavor no doubt far-exceeded their original aspirations, leading to collaborative projects involving several local art and history groups, a terrific website about the project, five separate exhibits of the quilts in Northern California, and now, this catalogue preserving the unique quilts and stories for everyone to learn from and enjoy. ... Considered together, the quilts in this collection do an outstanding job of bringing the home front experience to life through the recounting of individual and community stories." - Paul Scolari, Ph.D., Historian

A Rosie the Riveter Trust exclusive!